Resources > British Columbia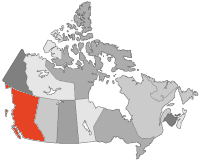 On April 1, 2000 the Government of British Columbia Ministry of Finance approved a new policy on data distribution within the provincial government. In summary, information and data held by B.C. Crown Ministries must to be made available to all other B.C. Crown Ministries in its original format, at the cost of distribution. This policy does not apply to Crown corporations, or other levels of government.

See 8.3.3.4 Internal Distribution of Government Information section of GENERAL MANAGEMENT OPERATING POLICY for details.

The February, 1999 issue of Technology in Government magazine contains an article describing rejection of a BC Government proposal for a shared cadastral database because of data charges.
Macdonald Dettwiler "could become a licensed provider of land ownership information" under a negotiation with the British government, claiming possible revenues of "about $250 million Cdn a year", with the government indicating it would make its licensing decision by April 1.

See MDA's Press release online. Quote from the release:

MacDonald Dettwiler entered these negotiations as a direct result of the Government of British Columbia's (BC) decision to license MDA to operate BC OnLine - a universal access service to many BC government databases via the Internet. The BC OnLine service model has been actively supported by BC's Information Science & Technology Agency and spearheaded internationally by the Honourable Michael Farnworth, BC's Minister of Employment & Investment.

Minister Farnworth, said, "BC Online is a key vehicle for making the delivery of government services more efficient and accessible to BC citizens. We are very pleased that MacDonald Dettwiler's success here may be repeated in England and Wales."

After British Columbia taxpayers spent $9.7 million with MDA developing a system which probably costs taxpayers (see below), it is now time to export this technology to Britain.

Freedom of Information requestabout Land Data BC from the Government of British Columbia seems to show a poor return on investment for spatial data sales.
In March, 1996, the Office of the Information and Privacy Commissioner, Province of British Columbia issued Order No. 91-1996 from its INQUIRY RE: A decision by the Ministry of Environment, Lands and Parks to withhold Digital Map Data from the Western Canada Wilderness Committee (WCWC).

In this case, the Western Canada Wilderness Committee was joined by :

the Canadian Union of Public Employees (CUPE)
B.C. Environmental Network Forest Caucus
Sierra Club of British Columbia
Map Librarian, W.A.C. Bennett Library, Simon Fraser University,
Marshik and Associates, professional land surveyors
Ecotrust Canada
B.C. Freedom of Information and Privacy Association (FIPA)
B.C. Civil Liberties Association (BCCLA)
B.C. Coalition for Information Access (BCCIA)
Cortes Island Forest Committee

in an attempt to have the BC Ministry of Environment, Lands, and Parks provide access to topographical mapping at reasonable cost. Although the commissioner was very favorable to the applicants' case and "invited the Ministry to reconsider its position" there has been no change in government policy.
In 1993, the Union of British Columbia Municipalities passed resolution B57 requesting a reduction of TRIM mapping cost.
This personal opinion from a Neil Borecky, a physical scientist at the Pacific Forestry Centre in Victoria, B.C.:

At the Pacific Forestry Centre, we work with both private and public partners. Much of our digital data is available for use without charge to anyone who makes a request for it.

Often, research that is carried out here is reliant on some form of external data. This data (I won't point any fingers), is available, but with limited budgets and need for large quantities of data, it is impractical to pay the sums of money that other government agencies expect. The data can be obtained freely by some, but not others, leading to a somewhat "country-club" approach to the distribution of government data. It is usually necessary to have an inside track or to go through reams of bureaucratic red tape in order to obtain such data freely. This in itself presents a hidden cost for everyone in the public and private sectors of Canada. This is a cost I might add, that our friends South of the Border, do not have to contend with. If I were in the private sector, I would consider this to be a competitive disadvantage imposed by our own government. In the public sector, I feel it simply perpetuates inefficiency.

I can appreciate the vast sums of (public) money that go into capturing, cleaning, storing and distributing data. Without some sort of cost-recovery it may well be argued that much of this would not be possible. However, with the present provincial government coveting the high-tech industry sector, we might be wise to question the short-term benefits of cost-recovery at the expense of long-term industry development, specialized education, and research in general.

The opinions expressed here are purely my own and do not necessarily reflect the policies of NRCAN or the Canadian Forest Service.

The following is an example of how the BC government severely restricts access, analysis and application of government data by Non-Governmental Organizations and the public. Extracts below are taken from the Central Coast Land and Coastal Resource Management Plan (CCLRMP) Data Distribution Agreement:

"The data are protected by copyright. No portion of the data set is to be copied or redistributed to any other parties."
"The data set is to be used only as information to support your participation in the CCLRMP and is for your internal use only. It is not to be used for any other purpose."
"Data content will not be edited, modified, or altered for any purpose." "Any products or output created from this data is for your internal use only. No products or output are to be distributed, quoted or presented without prior written authorization from the IPT Chairs."
"Your analysis and interpretations of this data will be for your own use only. Disclosure of your analysis results or interpretations generated from this data set requires prior consent of the IPT."
Resources > British Columbia