I have always wanted to model the place I am from, a small farm in Ahualoa, even years before I began the VTP. I'd like to give a virtual tour of my land - from the native trees along the driveway to the shoji drop-ceiling that casts a soft light into the center of the house. I'd like to pan back and see the farm in the context of the larger community. But, it's a poorly-mapped part of the USA with poor data availability, so it's challenging.
You can see it in google maps, but it is blurry and inaccurate. In google earth, the 3D is also uselessly wrong. USGS data is no help.
Location
From looking the USGS topo DRGs, it looks like the house is at (UTM zone 5 NAD83: 237620, 2219325), which is lat-lon 20°03'11" N, 155°30'30" W (that's 20.0532,-155.5084). We can guess that elevation is around 750 meters because there are two contour lines passing near the property: the 2480' (755.9m) line at the southwest corner by the pond, and the 2440' (743.7m) line at the base of the driveway: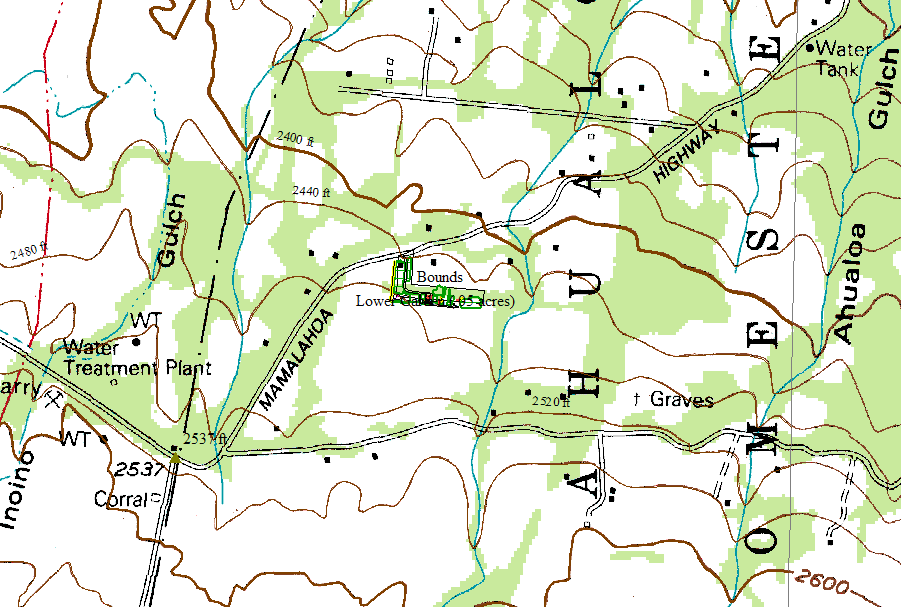 Imagery
GoogleMap's image taken early 2019 is the best known available imagery, from any source. Of course, it is not free to use, and it is several years out of date.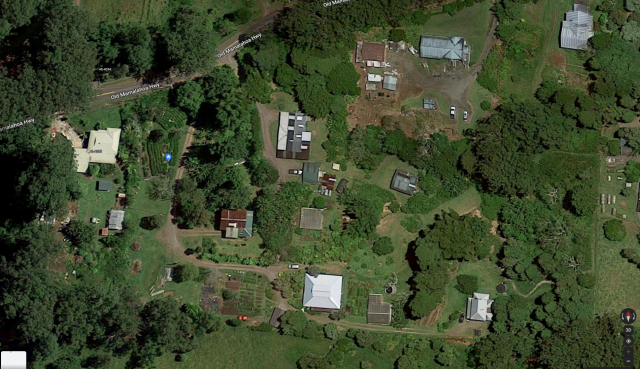 I also attempted to make an orthophoto in 2017. I used the "dronemapper" mobile app to flight-plan and control my DJI Phantom3, gathered 88 images at roughly 3 cm ground resolution. The images were processed into an orthophoto using dronemapper's software-as-service, and also processed using Pix4D's similar service. Below is a snapshot of the ortho as processed by Pix4D. Dronemapper and Pix4D produced similar results for areas of flat ground, but gave very significant distortion/clipping artifacts around obstructions like trees, and curiously, they gave very different artifacts from each other (diferent algorithms). Also, as of 2018, both cost around $1000/year subscription to use the software-as-service, so that puts a damper on the future.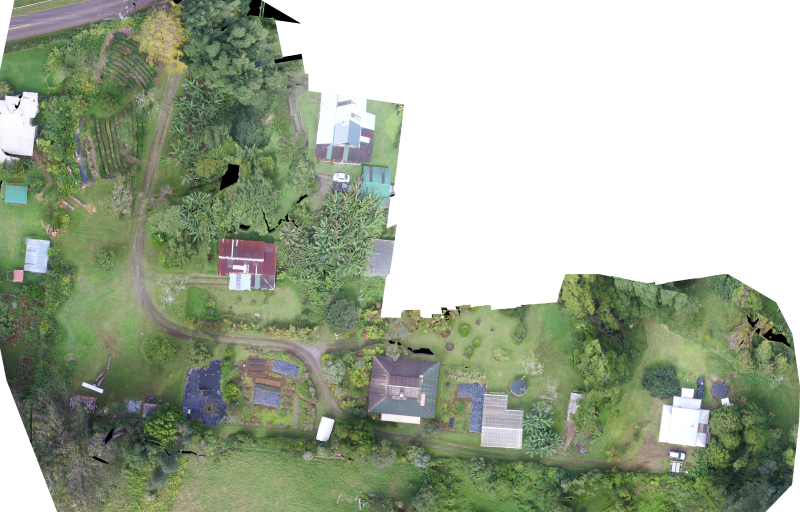 Previously, Google's image taken January 2013 was the best known available.
In it, the known marker spot is at -155.508606, 20.053247.
The 2013 image, shown here reduced by 50%, click for full image: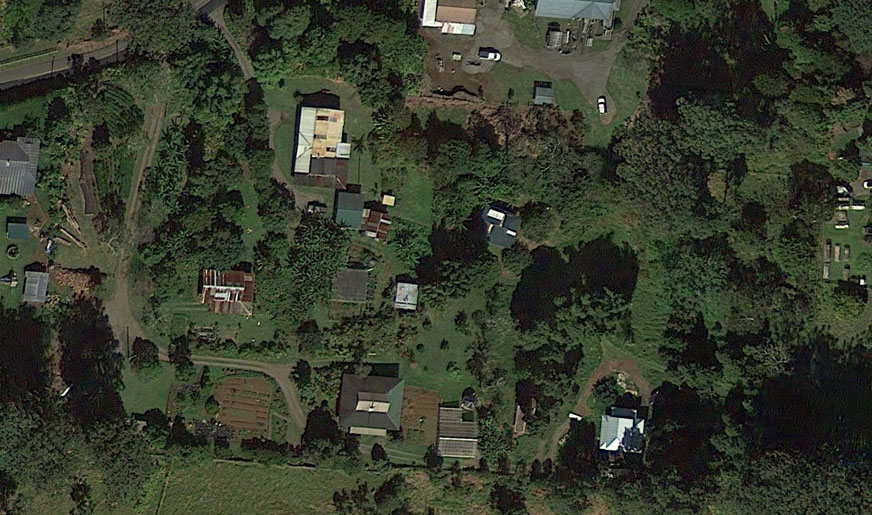 It is at their "zoom level 20" resolution. Real-world resolution is difficult to judge in Google's "spherical mercator" CRS, so to estimate resolution, i compare the size of a known identifiable feature (the east-west edge of the main building roof) which is 17 meters. In the image, it is 122 pixels, hence, 14 cm/pixel resolution.
In Google's previous DigitalGlobe imagery from December 2009, the known point is at -155.508362, 20.053239.
2009 is nominally around 30 cm/pixel ("zoom level 19"), but image quality is poor: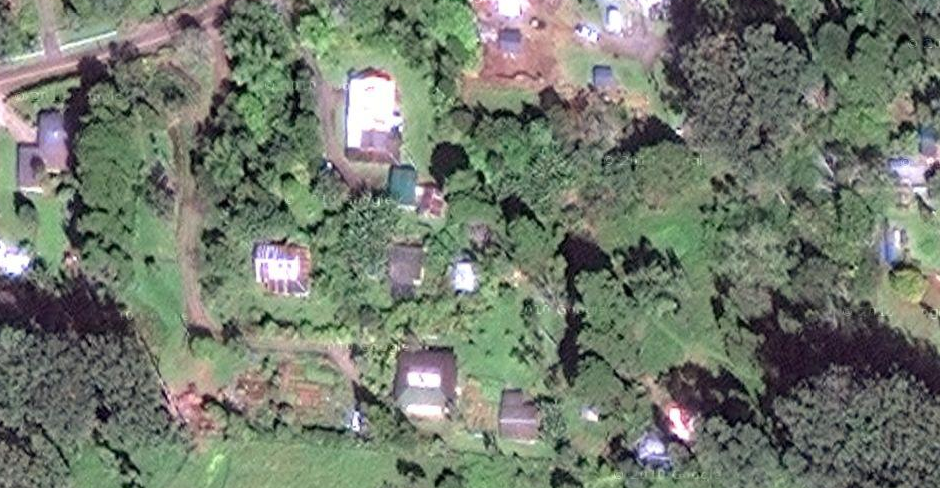 2003's DigitalGlobe imagery (nominally around 60 cm/pixel resolution, "zoom level 18") was shifted around 8 meters off from the 2009 image. This is the 2003 image with a very approximate property boundary hand-drawn on: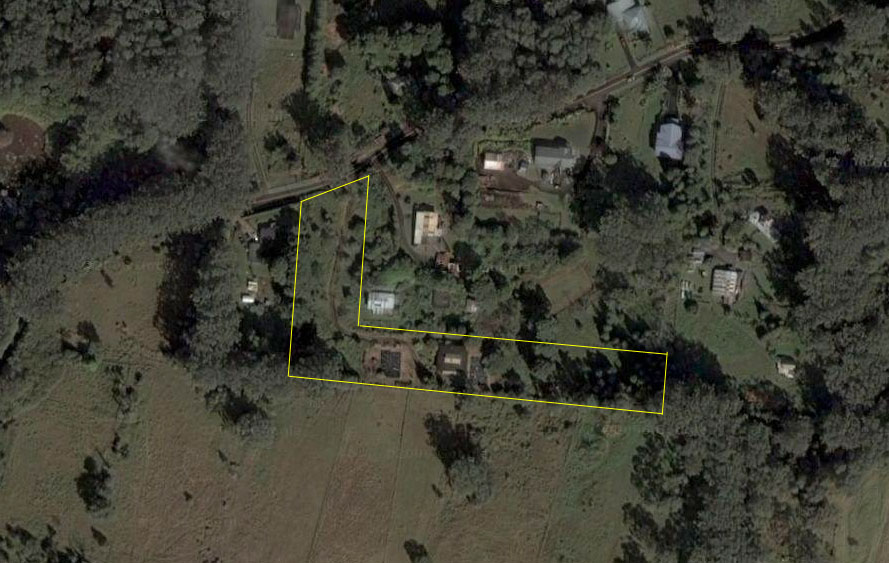 Microsoft Bing, in 2012, released imagery which as has poor color quality, and blurred by cloud shadows, but nominal resolution 30cm: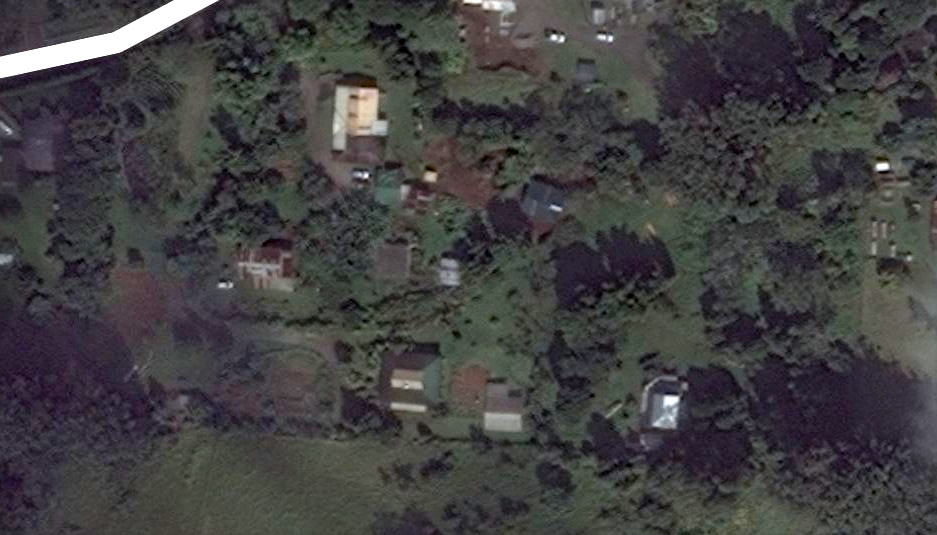 As far as I know, all the Google and Bing imagery are from space. There is not a single georeferenced/georectified aerial available of this place, anywhere, for any price. There is an assortment of old, non-referenced aerials which i have gathered and digitized, but without ground control, they are not much use. Also, they were captured as 9" analog film prints from a high plane, so they do not even match the usable resolution of the space imagery. They look like this: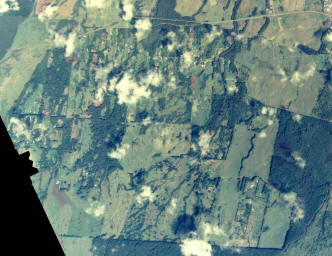 Tax maps
my house is on a tax map labeled "Third Division, Zone 4, Sec. 6, Plat 09"
adjacent maps are Plates #07, #08, and #10
County website had the Tax maps online at one point, so i was able to download h46009.tif; my land is the funny L-shaped parcel labelled "45"
Other useful data might be available in the Hawai'i County 1997 Data Book, found on the County of Hawai'i site.
It's not useful as a basemap because the tax maps were maintained using ink on linen, not to scale, for over 100 years. They were digitized in the 1990s without any significant georegistration.
The Land
Area is 2.305 acres in a long L shape. USGS 10m DEM, because it is derived from those two DRG contours that barely approach the land, lacks sufficient detail to get even a rough idea of the elevation of the parcel. Manual surveying would be necessary to get elevation contours, but that's cost prohibitive.
In 2000, i tried using a consumer GPS to walk the property bounds and establish some major features such as the house corners and some larger trees. However, the GPS device never got better than 5-7m accuracy, probably due to the numerous trees present, and the results were generally not useful.
In 2002, i tried doing some manual surveying with a level and horizontal ruler, measuring along some lines in the SW corner. Very labor intensive, and very limited because you have to be able to actually walk along these lines, and the land is too overgrown for that.
Commercial LIDAR Elevation
In February 2011, i licensed (the best and only) commercial LIDAR data for the area from Intermap. It is a 5m nominal bare-earth grid. The EULA prevents me from sharing it, but a rendering shows that it has significantly more detail than USGS 10m DEM:
| | |
| --- | --- |
| USGS DEM 10m | Intermap 5m |
Some areas appear to show the same artifacts; perhaps Intermap used USGS data to fill in some area. In other areas, Intermap is far more accurate, including right where my land is. In conclusion, it's not great, it's missing lots of important detail and it's poor around trees, but it's better than the USGS. Here is a comparison at full (1 pixel = 5m) resolution:
| | |
| --- | --- |
| USGS DEM 10m | Intermap 5m |
LIDAR from vehicle
In February 2011, i used an IP-S2 system with 3 SICKs to laser-scan the land from the back of our Ford pickup truck. The data is only collected near where the truck could drive, which is only a fraction the land. The GPS trajectories are fairly accurate because of DGPS, IMU and extensive post-processing.
One base point: According to a very accurate (OPUS) point measured just in front of the upper garden gate:
REF FRAME: NAD_83(PACP00)(EPOCH:2002.0000) ITRF00 (EPOCH:2011.1024)
X: -5455176.415(m) 0.029(m) -5455177.372(m) 0.029(m)
Y: -2485079.832(m) 0.022(m) -2485077.310(m) 0.022(m)
Z: 2173499.339(m) 0.029(m) 2173500.362(m) 0.029(m)
LAT: 20 3 11.65139 0.033(m) 20 3 11.68458 0.033(m)
E LON: 204 29 29.08736 0.010(m) 204 29 28.99474 0.010(m)
W LON: 155 30 30.91264 0.010(m) 155 30 31.00526 0.010(m)
EL HGT: 773.960(m) 0.030(m) 774.146(m) 0.030(m)
ORTHO HGT: 752.566(m) D.N.E. [No official datum supported (FAQs 19,20).]
As decimal degrees, in "NAD83", that is: -155.508586844, 20.0532364972
This "ortho hgt" value (orthometric) agrees very well with the USGS DEM:
The GPS antenna was 1.69 meters above the ground, so that's 750.77 meters (orthometric) on the ground.
USGS DEM (from loosely interpolated contours) has 751.5 meters at that spot
Commercial (Intermap/NEXTmap) LIDAR gives 750.8 meters at that spot, astonishingly close (vertical within 3cm must be luck).
Trajectory of truck IMU at a reference point on driveway: 773.4 m (vs. ellipsoid)
Height of truck IMU above ground: 2.1 m
Height of ground measured by GPS/IMU: 771.3 m (vs. ellipsoid)
Height of ground from LIDAR: 750.0 m (vs. geoid)
Difference (ellipsoid - geoid): 21.3 m
Difference (IMU - geoid): 23.4 m
Relative to that OPUS accurate point:
The Google imagery from 2003 is off by ~9 meters SSW
The Google imagery from 2009-12 is off by ~6 meters SW.
The Google imagery from 2013 (-155.508606, 20.053247) is off by only 2.3 meters NW. That's very good! It might be even better than that since I can only click in the maps image to within .3 meters at best.
The Trajectories (path through space of the IMU)
This image shows a number of things: The trajectories as colored 3D vectors, rendered in 2D and 3D in Global Mapper, with a scraped snapshot of Google Maps imagery draped over the 5m LIDAR grid. The innacuracy of the 5m is large enough that the trajectories go under the ground in many places, which is why the 3D view is in wireframe, so you can see underground:

The Point Cloud
With the IP-S2 system, we gathered point clouds for the farm, the neighborhood, and the nearby town of Honokaa. Two runs overlap on the farm, which gives a bit more coverage but also introduces registration issues: where the calibration/trajectories don't quite match, then neither do the clouds. Here is a snapshot of top-down ortho view, and an oblique view, of the point cloud:
The cloud is potentially very useful for digitizing the location and dimensions of many objects. There is the issue of converting from geocentric coordinates (of the cloud) to a "regular" CRS which has orthometic elevation, which involves a vertical datum lookup (i found solutions for that). We should also be able to get an accurate surface elevation in the areas immediately close to the vehicle, where there are no major vegetation or obstacles. This is the result of roughly auto-classifying some points as "ground", then building a surface on those points, shown here superimposed on a sparse version of the cloud: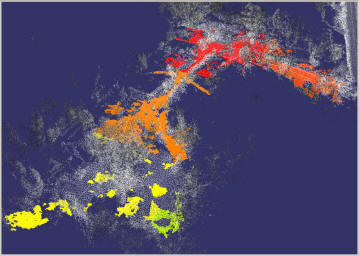 (The colors are not meaningful.) Notice how the surface is actually better in some places farther from the laser; that is because it was likely swept once by a single laser, rather than multiple times along the path which causes ambiguity where there are two "ground" clouds as much as a meter apart vertically.
The TIN data, in VTP ITF format, 1.2MB in size: 2011-02-09-18-02-12.itf is in WGS84 UTM Zone 5, with ellipsoidal heights (easy to use with geocentric clouds); 2011-02-09-18-02-12_om.itf is the same with orthometric heights (easy to use with regular geodata). This is just a proof of concept, it is too sparse and erratic to be useful. Next steps would be to either do much better ground classification and handling of fuzzy multi-pass areas, or taking another approach such as hand-picking just a few trusted points and making a sparser TIN.
The Buildings

The architect, Gordon Motta, gave me a copy of the blueprints for the main house. There are a several plan and elevation views, and even detailed materials lists. However, I've learned it takes years of knowledge of architecture and construction in general to make sense of a blueprint - not all the 3D positioning and placement info is there, mostly it is left assumed.
House Modeling
ideally, there would be a "homebuilding wizard"

It would let you describe your home in general terms, then it would build the house, completely describing the structural elements like bricks and boards, and output the result into a realtime rendering environment
there are a few tools for built structures on the market, they are limited, or specialized and rarely export well
i produced a procedural model using the VTP building support which looks OK, but interfaces poorly with the ground, since the elevation is wildly imprecise

second choice would be to use a general-purpose 3D modeling program to model and render the house

3D Studio MAX is not easy to use for architectural work
i started out use MAX in 1999 to enter the floor plan as 2D lines, then
but.. walls should have thickness - this gets awkward very quickly.
i'd rather start from the "ground up" - start with the foundation, then the main support posts, then the floor, much as carpenters would when building the house. However, it's not clear what shape the foundation is from the blueprints - it mainly follows the topography of the terrain (a gradual, but significant, slope). I don't have this topography information. Where to start?
most people would say: Just try using Sketchup, but most of the same challenges exists.
House: Source Materials
what i have to work from:
blueprint diagrams from 1986. printed on large-format paper. how to digitize them?
some detail diagrams. printed on 8.5"x11" paper, easily scanned - see example:
access to measurement of the existing house
House: Construction Details
12/99, i asked people familiar with the house's construction how it was done.
they said it uses standard post-and-beam construction, starting like this:

bulldozer: carve the driveway and carport
put in the "batterboards", stakes in the ground at the right places
tie strings between the stakes, use levels to make sure the strings are level
shovel the flat areas for the footings
pour cement for the carpool and footings
lay the "pier block" on the footings - this is a piece of cement, pre-made, which provides a base for the 4x4s
add the 4x4s for the main support posts
add 4x8s across from post to post
add braces to the 4x4s, surface nailed to the 4x8s
add "floor joists", 2x6 or 2x8 or 2x10 (usually 2x8), spaced 16" apart, standing on end, nailed in at 45º ("toenailing")
add "blocking" between the floor joists
plywood, covers the floor
add 4x4 posts and top beams (4x8s and 4x6s)
a bunch more steps (need more info)

board sizes like "4x4" aren't actually 4 by 4 inches. What are the actual sizes? the answers are in this table
cement blocks: common blocks are 6 x 8 x 16 inches, actual dimensions are 3/8" shorter than this, in each direction, to allow for 3/8" of mortar
building lines

houses are often designed on a grid of regularly-spaced lines, e.g. 8' or 10' apart
this leads to a set of "building lines" used as a reference while building
in physical construction, actual strings are strung from the batter boards along these lines
around the edge of the building, the lines determine the outside of the blocks and beams of the wall
inside the building, the lines determine the center of the blocks and beams that support the floor