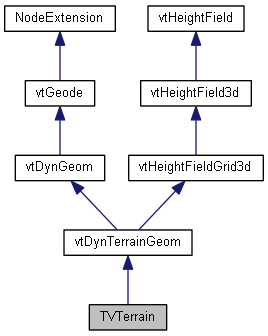 [legend]
This algorithm requires that the input heightfield is a square regular grid, of any size. Storage requirements are around 14 bytes/vertex. The data is represented in memory by a binary tree of faces.
The VTP implementation consists of an adaptation of the author's own source code, made to work in the vtDynTerrainGeom framework.
The algorithm is promising, but needs a lot of work:

Doesn't currently address lighting or texturing
Doesn't utilize triangle strips
Uses a very simple error metric based only on ground (2D) distance
So far i have extended the algorithm in the following ways:

Added full 6-plane view-volume culling (instead of the previously simple 2D culling). This required implementing some 3d triangle culling which was mysteriously absent from the computer graphics literature.
1.8.2